Summer Dating Ideas for Single Asian Professionals.
With the warming weather comes that feeling of romance.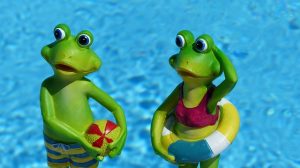 First dates are the most common during the summer months, because there are more options. Plus, everyone feels like getting out of the house and going on an adventure. Big or small. It's true that there are many things to do in the summer. Alone and with others. In fact, there are many "summer date idea" posts out there. But, you don't want to do what everyone else is doing, do you? You want something a little more original that is bound to make an impression on your date.
Sight-Seeing
This doesn't refer to seeing the sights, like monuments, fairs or local anything. This is referring to real sights, like bird-watching. As children, we've all played "I Spy". Well, there's nothing stopping us from doing it now, too. Especially on a date! It's a fun way to get to experience everything around you. Take a simple walk and play the modified version of the game. Instead of saying "I spy", point out random things. Discuss a random tree and the pattern in the bark. This date idea is great for really getting to know the person you're with.
Bored? Try Games!
You may think it's boring to play board games on a date, but think about it! You have the chance to talk, while you're both planning a strategy. You get to see how competitive your date is, while getting to know how they plan and organise their thoughts. Board games provide an intellectual challenge, while being a great way to make and share memories. You could share with each other the "last time I played this" stories. It's also inexpensive, since many of us have these laying around. Or, you could opt for a board game cafe is there's one in your area. It's more crowded though, and indoors. Your own board games could be played outside, to still enjoy the weather.
How About Something Refreshing?
Are you thinking about a restaurant, going out for ice cream/coffee/drinks? Forget about it! It's overdone. No one wants to be inside with such nice weather. Do you have a back/front yard? A sidewalk? Make use of the outdoor space you do have. If you have none, it's the perfect time to plan a picnic. Put together something delicious and homemade and treat your date. If you're not feeling it, try these: Homemade ice pops, homemade lemonade, homemade floats, homemade ice cream. Inexpensive to make and delicious to taste. Plus, homemade edibles are always the best! If you're taking the homemade route, include your date. The creation is half of the fun!
Head To The Beach
Okay, going to the beach is a pretty typical date idea. You grab ice cream and take a stroll. Maybe you collect seashells. Maybe you bring a guitar and play some music. Or, you and your date could build a sandcastle together. Yes, that sounds a little childish. Come on, summer brings out the younger parts of our hearts. Get a little messy, covered in mud and sand. Build something awesome together, demonstrating team work and your personal creativity. This can actually be a great way to know if you'll work together in a more serious relationship. How you communicate and what the two of you can create together. After you're done, go swimming in your clothes to get clean. It sounds messy, but, the best things are!
Of course you can opt for the traditional date ideas: swimming, getting ice cream, eating at a restaurant, a walk through the park and talking about life. But, what's the fun in doing any of that? Summer is supposed to be fun. A time of the year when we get out of the boring work clothes and stuffed mentality. We feel a freedom with the bright and shining sun. There's no reason your dating life should be any different! A bit of playfulness and some creativity are bound to get you a better dating experience.