Tuesday, April 26th, 2011
Dating has changed so much over the years.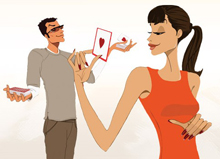 Today's blog is about the new ways of doing it
Generations ago, Asian singles were introduced by families or by a head of their community.  They'd attend social functions under the guidance of chaperones and would stick to the rules and social conventions of the time.  Nowadays most people have to have travel away from their hometown to work and their family and friends can be miles away. On top of this, people are working longer and longer hours and coming into contact with less people.
However, the invention of the Internet has helped dramatically to help readdress the balance.  Asiansinglesolution has revolutionised  dating for single Asian professionals. It's easy to log on to a computer from home and sign up to lots of different web sites.  Once they've created a quick profile they can potentially date and interact with 1000's of possible singles from all over the country.
My dating tips and advice for actual face to face dating remains the same as it did before online dating.   You still need to create an amazing first impression,  present the best possible version of you. listen to what your date is saying, flirt and keep building the attraction.
There has never been a better time to hit the dating scene.  The taboo of online dating has long gone and more matches are being made than ever.  As there is so much less pressure than in previous generations, singles can have more fun enjoying the dating process.
So why not log on now and meet another Asian professional right now?
Good luck!
James Preece – The Dating Guru
www.asiansinglesolution.com