How To Say Goodbye
The way you say goodbye is just as important as the way you say hello.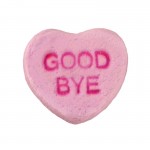 We all know we have to work hard to make a fantastic first impression.
We smile warmly, shake hands firmly and put lots of effort into showing an interest, saying
and doing the right things.
But how often do you think about your last impression?
This is the final time you'll have contact, so you want to make sure you create long lasting
memories that will stick with them long after you've parted.  This is especially true when it comes to meeting other guests at singles parties. You'll meet so many people that you'll be starting and stopping conversations throughout the evening.
The best thing you can do is to keep the positive feelings flowing.  You can do this by making
them feel good and paying them a small compliment.  It's easy – just say something along the lines of:
"It was so good to talk to you, Rachel"  or "I just loved chatting with with, John."
If you have genuinely enjoyed meeting them and want to see them again then you need to make sure you do all you can to help this happen.
I'd advise you to carry business cards with you at all times.   These need to be professionally printed as they'll be acting as a memento afterwards. The classier they look, then the more likely they'll want to hang on to them.
If you don't have business cards, it's easy to get some made up for a low cost.   They just need to have your name, email address and phone number on them.   The perfect finishing touch is a great photo so they'll remember who you are.
There's nothing wrong with making a provisional plan to meet again there and then.   You can say:
"What steps do we have to take to talk again?"
This give them the chance to suggest a date or to exchange numbers. If they give you their own cards or details, then call them up the very next. There's little point in hanging around trying not to seem too keen.
Always at least attempt to politely exchange contact details.  You won't have lost anything as there won't be any way of contacting them afterwards anyway!
Even it you have no intention of chatting again, there's no harm in sending them away in a good mood.  They'll be more encourage to go up and approach other people that way.
Good luck!
James Preece – The Dating Guru
www.asiansinglesolution.com