Guest blog: How to dress to be your most attractive and fabulous self!
Hi! Let me introduce myself……I'm Louise Gillespie-Smith and I have been a personal stylist for just over 6 years, my company is called Create Yourself. The main thing I love about my job is helping people accept themselves for who they are and to really make the most of themselves through how they dress, plus of course I really love the shopping! I often get asked about what is best to wear when going on first dates so James has invited me to write you all a little something to help you really knock your date's socks off!!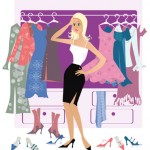 Following are my top 5 tips on how to look your most attractive and most fabulous:
1)      Take some time to prepare: If you want to be looking your best pamper yourself a bit before the date, make sure you smell nice, enjoy the process of getting ready and get a good night's sleep beforehand to ensure you are not turning up hung-over and yawning to death. Men make sure you have cleaned your teeth…..I know I don't need to say this to women as they know the importance of not showing up with bad breath!!
2)      Be yourself: With studies showing that image and body language is 55% of what matters most in first impressions it is really important to be feeling comfortable in what you are wearing, confident that you look your best and that you are conveying the real you. Until we really know someone we can only judge them by how they come across and a big part of that is through their image. There is no point trying to be something you are not, if they don't like you for who you really are then they are not worth it anyway! There are all sorts of ways of doing this by using colours, styles, accessories and make up. Have a think about your key personality traits that you would like someone to know about you and then take some time to consider how you can express this through what you wear.
3) Make an effort but don't go over the top: You need to get the balance between making an effort and feeling comfortable. It's important to feel comfortable so you are not distracted by hurting feet, pulling skirts or tops down but at the same time you want to look like you have made an effort, heels are always a winner for dates as they lengthen and slim your figure, plus wearing them gives you that extra boost of confidence and sexiness. However don't go for totally over the top ones that will cripple you in seconds.  If heels just are not you though then don't wear them, the most important thing as I said above is to be yourself.
4) Wear the right colours: The right colours, especially close to your face can really make you look vibrant, healthy and even younger! The wrong colours can drain you, make you look ill and highlight any redness or lines on the face. The most flattering colours for you share the same characteristics as your own natural colouring so for example if you have dark hair then deep colours will suit you more than very pale ones. Or if you have a golden undertone to your skin then colours with a yellow base will look fantastic where as blue based colours will drain the warmth away from you.
5)      Enhance your best bits: take some time to consider what your best bits are for example are they your; eyes, your bust, your bum, your legs, your stomach etc? Then think how you can show that off. It's a waste of time and energy worrying about the bit's you don't like (plus it won't make you feel very good about yourself) instead focus on how to enhance the great bits about you.
Please do feel free to email me if you have any specific questions about what to wear or what not to!! [email protected]