Dating Profile Review: Ms Smile
Due to popular request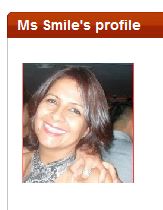 here is another profile review
Here's a look at her current profile: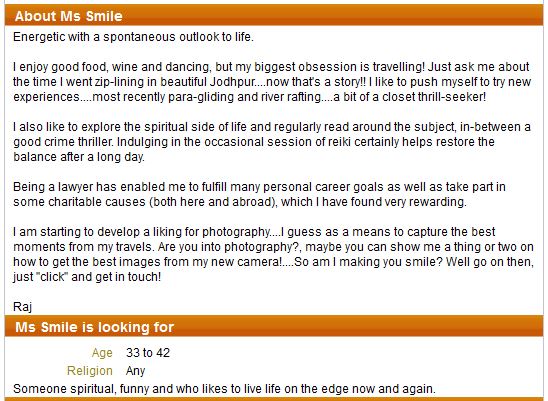 This is a much tougher call than normal as you are doing lots of things right!
Firstly, you have a lovely smiling photo and also a great user name.  It's so important to come across as a friendly, like able person and you sell yourself well in the profile text too.
You have a good mix of hobbies and sound very interesting which is fantastic.
However, there are a few suggestions that may help:
1) Believe it or not, but there are some men who may feel intimidated by you, your lifestyle and your job.   So for this reason you may not get as much contact as you like.  That's actually good news as you filter out anyone who isn't a good match right away.
2) Add your religion or parent's religion even if you aren't practising.  This is because this is important to a lot of people and they search for this when looking.  By not specifying at all, you won't come up in their searches.
3) This is the MOST important tip I can give you.  You don't seem to have actually contacted anyone on the website?   To get success, you can't sit back and wait for the guys to contact you.  It's competitive so you must contact anyone that you like the look of, with a reply paid credit.  That way they can read and respond.
It's not about how many clicks or emails you get, but about you targeting the right men for you.  If you need more help with this then please contact me directly.
4) Move the bit about your job to the "about your job" section.    The same goes for the interesting fact, which we use at the events as an icebreaking tool.  You could move the section about zip-lining here.
4) Finally, do write a bit more about the person you hope to meet.  You need to write something that will resonate with them and make it feel like you are connecting with them directly.  Think about who this could be.  What are their interests, hopes and dreams?
I hope this helps,
James
If you would like to have your profile reviewed and featured, then please email your request to [email protected] We'll pick the best one each month and get our leading Dating Expert James Preece to offer you his advice on how to make it better in this blog.
Good luck!
James Preece – Dating Coach