Don't give up!
Are you struggling with dating?  Not having the success you want?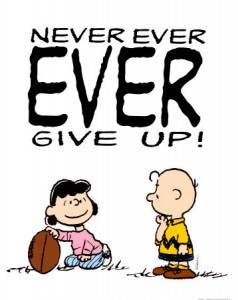 In today's blog I'm going to motivate you to keep at it!
Many people seem to give up far too easily and quickly when it comes to dating.  Perhaps they will join an online dating site, send out some messages and then get disappointed when they don't get many replies.  Or maybe they'll attend a singles event and not find anyone they like there.
Rather than keep at it, they'll think"Oh, I've tried that and it didn't work.  Now I can cross that off my list."
We know that it can sometimes seem exhausting if you don't get get instant results but dating is a trial and error process and the more you do then the better you'll get at it
Yes, you'll make mistakes at the start but please don't give up.
You need to keep in mind that these things really do work!  Every day we get success stories sent to us from people who struck lucky.  The secret is to keep at it – like most things in life you get out of it what you put into it.  Otherwise it's like joining a gym, going twice and then quitting because you weren't miraculously fit and muscular.  These things can take time.
One person said to me recently that they've calculated they would have to send out 100 messages to get 10 replies back which would lead to one or two dates.  They just didn't have time to be sending out so many messages each week.
My reply to him was that he was thinking about the negative side of things rather than the reality.  What if one of the first people he met up with turned out to be his Miss Right?   He'd then be able to stop messaging people.  Therefore, he should spend more time making sure he has the best profile, photos and messages possible right from the start.  He can then be sure he's equipping himself with the best tools for the job.
The more work you put in at the start, then the quicker you'll see the results!
If you ever find yourself tempted to give up then get a friend to help you.  Ask them to send out some messages with you or attend events with you.  That way you'll get a whole new perspective on things.
Finally, we are here to help if you ever need motivation. All you need to do is ask.
Good luck!
James Preece – The Dating Guru