The Way to Woo a Woman
It's always a good time to think about seduction.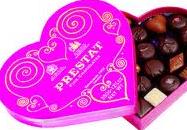 So in today's blog I'm going to tell you why you need to be romantic through the entire year!
The key message is that you need to be romantic every day, not just for Valentine's, Christmas, birthdays etc.
It might seem like a cliche, but you still need to do it!   She'll be expecting these romantic gestures and needs them to make her feel loved and special.  However, flowers, perfume and chocolates won't last very long so you need to think bigger.
It's easy to think up simple, romantic gestures and A great gift is to get a locket engraved with a special message. Place a small photo of the two of you together so you'll always be close to her heart.  Women love that kind of thing!
You could also try baking some cupcakes and then icing each one with a letter, spelling out a romantic message.     This will take a lot less effort to do than it appears and she's have something remember.
If you want to woo a lady it doesn't have to be difficult or expensive, just make her know you've been thinking about her.
Happy dating!
James Preece – The Dating Guru
www.asiansinglesolution.com