How to Work a Room
Any party or event is an amazing opportunity to meet new people but I know it can often seem a bit scary.
Some people find it really hard to do this so I'm going to give you some great tips to help.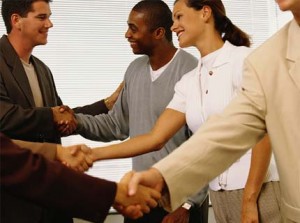 Guests worry they will left on their own or even worse, they will get stuck chatting with the same group of people all night.
This doesn't have to be the case at all. Keep in mind that people who attend these events are generally open to talking to you.
If they hated the idea of making new contacts they'd just stay at home wouldn't they? It's not like going up to a random person in a bar – you already have something common.This can be a mutual friend, hobby or just the very fact you all quite fancied the idea of coming along.
The very first thing you should do, once you've made your entrance and got yourself settled, is do a quick scan of the moment.  See who you might be interested in and who is already talking to who.    It will also help to make note of where the bar and toilets are so you make a hasty exit if it become necessary.
When you've got a drink, carry it in your left hand which will keep your right hand free for the initial handshake.  There's nothing worse that offering a freezing hand or having to juggle your drinks.
Then all you have to do is go up to someone and say "Hello, I'm ———.  Is this your first time?"     The ice is quickly broken and you'll have something to chat about.   Stay away from asking closed questions that only require a one or two word answer and don't outstay your welcome.
Finally, try and speak to as many people as possible. Even if you aren't attracted to them it's always useful to introduce yourself.  You never know how they might be able to help you and it's better to talk to "anyone" rather than look lost.   You'll also be able to sneak yourself into any conversations they are having later!
James Preece – The Dating Guru
www.asiansinglesolution.com