Dating Profile Review: Cosmopolitan
Due to popular request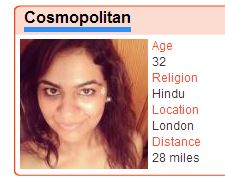 here is another profile review
Here's a look at her current profile: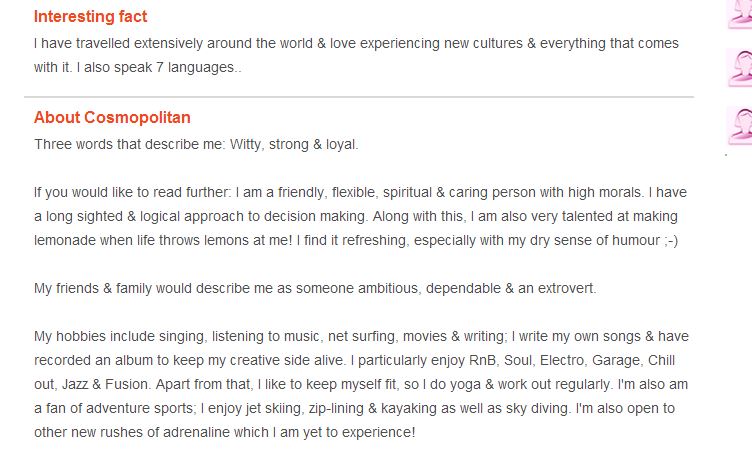 Ok, this is a hard one!   You'll be pleased to hear that I think you have a pretty good profile.
You look good in your photos and have clearly taken the time to write an interesting profile.  I can see you are getting a lot of interest, so something is clearly working.
You also have a great username!
However, you've asked me for help…so here are some suggestions:
1) You have a good selection of photos, but some of them are quite  dark/blurry when you look at your album.
2) You say you enjoy all those activities, but there is no evidence of this in your photos.  Perhaps add one or two of you taking part in them, to give the album more fun and variety.
3) You come across as a bit of a "tough cookie"    That's not necessarily a bad thing, but you could try softening it a little. At the moment you sound very strong minded and masculine.
4)  Write more about the person you'd like to meet.  It's quite generic at the moment and could apply to lots of people.   You need to write something that resonates with your Mr Right!
5) No need to write things like "If you would like to read further"  as it's just extra padding.  It's always better to focus on selling yourself rather than pointing out obvious things.
Good luck!
James
If you would like to have your profile reviewed and featured, then please email your request to [email protected] We'll pick the best one each month and get our leading Dating Expert James Preece to offer you his advice on how to make it better in this blog.
Good luck!
James Preece – Dating Coach