Christmas Dating Facts: Mistletoe
Have you ever wondered why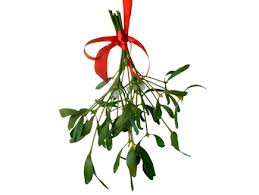 we put up Mistletoe at Christmas?
Mistletoe is most often used as a Christmas decoration, although it's only been common since the 18th Century. In ancient times the Druids believed that mistletoe would bring good luck and health which is why they put it up.
According to custom, the mistletoe must not touch the ground between it's cutting and it's removal as the last of Christmas greens at Candlemas.  It doesn't necessarily need to be taken down and it can in fact remain hanging throughout the year.  This is to save  the house from lightning or fire, until it is replaced the following Christmas Eve.
According to ancient Christmas custom, a man and a woman who meet under a hanging of mistletoe are obliged to kiss to boost their chances of marriage.  The custom may be Scandinavian, but nobody knows for sure.
So remember to look out for some mistletoe while you are out and about over the festive season.  It might just boost your chances.  Just make sure you don't eat it as it can be poisonous!
Happy dating!
James Preece  – The Dating Guru
www.asiansinglesolution.com