Day One – Twelve Dates of Christmas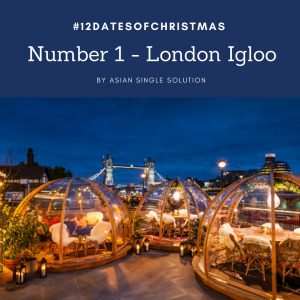 As a bit of Festive Fun, we will be giving you 12 fun dating ideas over the next few days.  You can use them for inspiration for when you go out on dates with members of the site.
Idea One – London Igloos
You might not have realised, but igloos are popping over all over the place.  These are modern little outdoor bubbles that give you the chance to meet someone in a fun,private environment.  You can see the stars at night and eat or drink to your hearts content.  With some you can try fondue together if you fancy it.
Don't worry, these igloos are heated and many also come with blankets just in case you get a bit chilly.  We think they are the perfect romantic environment to warm up your love life.  If nothing more, you'll have a great night to remember for years to come.
They are extremely popular so if you are interested you will need to book up early. They sell out very quickly each year so if you don't want to miss out start planning today.
If you have your own Christmas Dating Ideas please do add a comment to this blog.  We'd love to share the most original ones.
Happy dating!
Asian Single Solution
Tags: asian dating, hindu dating, sikh dating, sikh love