Sunday, December 3rd, 2017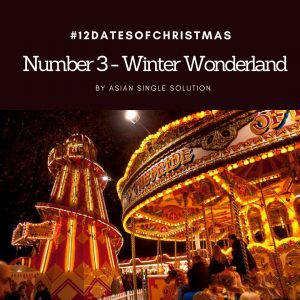 Idea Three – Winter Wonderland
The Asian Single Solution absolutely adore Winter Wonderland.  The biggest one takes place each year in Hyde Park, but there are small versions in other major towns in the UK.
For one month only, Christmas is brought to life in this spectacular event.  There are lots of fairground rides, shows and activities for you to walk around during your date.  It really does make you feel very special in such a unique atmosphere
Do keep in mind that it can be quite expensive and the food/drink is often quite overpriced  Budget for this and then it won't spoil your fun.  Think of it as a charge for admission to such a magicial display.
If you have your own Christmas Dating Ideas please do add a comment to this blog.  We'd love to share the most original ones.
Happy dating!
Asian Single Solution
#12datesofchristmas