Thursday, June 23rd, 2016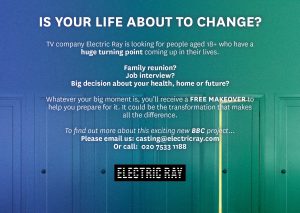 My name is Claire and I am a producer at a Television Production company called Electric Ray, we are currently making a new BBC1 show called Second Chance Salon, following people who are about to experience a huge turning point in their life.  For example it could be someone getting married after overcoming a health issue, a person preparing for a crucial job interview or a single dad going on a first date – anything that is of huge significance to them personally.
To tell you a bit about it – We want to help people feel confident and ready to take on a life changing moment by inviting them into our purpose-built salon. Here they will meet people going through similar experiences and receive a full, free makeover.  Our aim is for each person to leave the salon feeling like the best version of themselves.  We want to show how a positive transformation in someone's outward appearance can have an incredible impact on their emotional wellbeing. As each person undergoes a physical transformation before our eyes – via conversations with the stylists – we'll learn more about their life story and why they are in need of a helping hand. We'll then follow each person out of the salon and into the real world as they take on their date with destiny – a heart-warming and emotional payoff at the end of the show.
This isn't a 'makeover show' in the familiar sense but a documentary series in the style of First Dates and 24 Hours in A&E. The salon environment and makeover process gives us an engaging way of telling powerful human stories.
To find out a bit more, all you have to do is email [email protected] or call them
on 0207 061 8614 . They can answer any questions ahead of our starting filming in late July/early August.