Saturday, December 2nd, 2017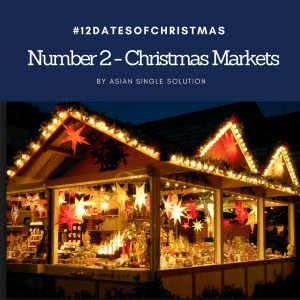 Idea Two – Christmas Markets
If you want an instant talking point, you can find Christmas Markets in many high streets.  They are usually copies of European markets, with lots of pretty lights and wares to buy.
No reputable market is complete without it's own hot dog stand. Bratwursts are a very popular delicacy and they usually have a variety of the sausages available.
Take a stroll around you'll find homemade goods and lots of art and crafts.  This could be candles, paintings, perfumes or Christmas cards.  Maybe you can buy each other a small trinket as as souvenir?
If you have your own Christmas Dating Ideas please do add a comment to this blog.  We'd love to share the most original ones.
Happy dating!
Asian Single Solution
#12datesofchristmas